I've been M.I.A. in blog world lately. Sorry about that. I feel guilty sometimes, but then I figure I am living life instead of writing about it – and that's good too.
The biggest event that happened (for me) since my last post was the IronGirl Clearwater 5k. This was a gorgeous womens race from Clearwater to Clearwater Beach. (I received free entry.) Lots went right that day… I ended up with an unexpected running partner, I had my first shoe timing tag, ran past gorgeous water views, and borrowed DD2′s camera to get some fun photos of half marathon friends finishing. (Photos will be here for 2 weeks)
Really there were only 2 down parts to the day. One was the BRIDGE. Look at any recap from the race, and it will mention the bridge. Florida is famous for flat running, so when you suddenly run over a bridge, then take a hairpin turn and run back over the bridge, that adds a certain measure of difficulty for a Florida runner.
The other negative was the lack of mention/enthusiasm/phone call from my husband that day. Maybe because we're at races all the time… but I'm not usually the one running.
I went to packet pickup on my own and socialized with vendors. I drove to the race with my friend Sandy, who was running the HM with 2 friends, and her husband, and her sorta-sister Krystal. Turns out Krystal was running the 5k and is about my pace, so we held tight together most of the race and it helped a lot.
I also got to see a lot of my Tampa Bay Blogger friends! Jenny was even awarded the Athleta "Power to the She" award. I got a few photos with her and her daughter.
I ran the race with my phone in my hand to force myself to take more photos.
After the race I hopped back in the car with Sandy's crew and we hit up Cracker Barrel. There might have been a sweet potato with a side of bacon with my name on it.
I would have loved to just crawl right in bed after that race, but instead I took my daughter to play rehearsal and sat in the audience as the photographer. If you are ever asked to photograph an event with lots of people in the audience, it's great to get photos at the dress rehearsal first. Sometimes the shots come out better without bobbing heads in front of you, and other times it just prepares you for the order of events so you are ready to press the shutter during the most important moments. In this case – a full musical ("The Music Man") – I knew when the dance jumps and lifts were coming, and I could move around the theatre without disturbing anyone. I ended up photographing 2 dress rehearsals – first I got the major moments, and I came back to get all the other details. That way everyone in the cast would find photos of themselves. This is important to kids who choose to be on stage! I shared my 400 photos with the cast and crew using Google Drive, and I hope they download & share them to their hearts content.
You might think 400 is a lot of photos… but I was just getting warmed up. The following week was Celebrate the Arts week at school. Classes had visiting artists of all different mediums to be photographed, and there were juried art awards to be photographed, and a cocktail party on the opening night of "The Music Man". And a performance by the middle school kids and high schoolers in the gym. And just when I thought my fingers would fall off from editing photos, there was a spring concert with all the school musicians playing – including DD1′s boyfriend on guitar with his rock band – so that could not be missed. (Classic rock, not punk, FYI.)
But then the best photos happened… I was asked to be the official race photographer for the Best Buddies Friendship Walk in Tampa. DD2 came as my backup photographer. We were there for 5 hours and took about 1200 pictures, which I then had to edit and upload to Facebook – but it was SO worth it! Best Buddies is an inclusion program that helps people with intellectual and developmental disabilities make friends, find jobs, mainstream at school, etc.
Many of the Buddies who were at the event were high schoolers with Down Syndrome who were paired up with an average high schooler to help them find their way around, eat with at lunch, go to parties, etc. One high school had their Varsity Cheerleaders there, along with a team of cheerleaders with different abilities, and they got up on stage and cheered together!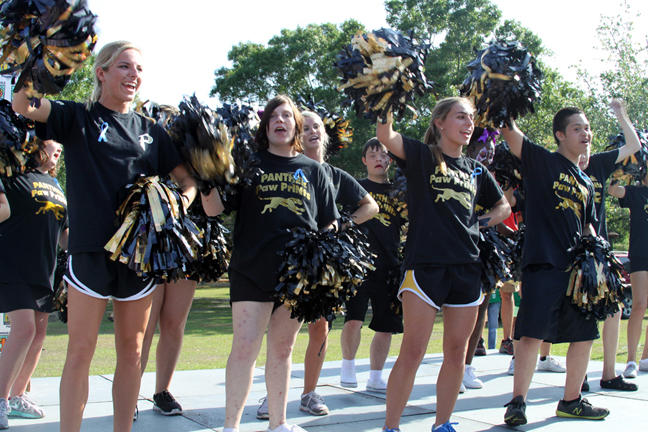 It was a day full of smiles and warm fuzzies, as well as a 5k fun walk.
PDQ, Starbucks and Whole Foods all had booths with free food. There was a face painter and a bounce house. And the DJ was awesome! He handled the day's unpredictability level very well!
I'm so glad DD2 came with me. She's been dealing with typical high school girl social crap, and suddenly there were a few hundred people who wanted to hug, high five, and just hang out with her. No one was there to judge. Everyone came in friendship, with an open heart, and that is how my daughter lives her life. She always gives people a 3rd and 4th chance to be a friend and keeps her hopes high. As much as she did NOT want to get up at 6am to drive to Tampa for this event – she left with a grand smile and positive words
Our other recent event – also full of photos – was Prom. Only it was NonProm… here's why. My daughter is a sophomore. Normally she wouldn't go to her school's junior/senior prom. But her boyfriend is a junior. And then along came the Regional Track meet. My daughter was just waking up to volunteer for the meet because she was out with a stress fracture, when her phone rang. Someone was having diabetic concerns from the girls 4×800 relay team and they needed a 4th runner. She literally ran up and down the block a few times to test her leg out, and decided to do it. 3 hours later, I was watching her relay team win the Regionals (while taking photos), sending them to State.
And a few hours after that her boyfriend's relay team made it to state as well. AWESOME! But… State meet was the same night as -  you guessed it – prom!
So we cancelled the hair appointment and put her dress in plastic for next year. He cancelled his tux and invited her to dinner the night after Prom at the Melting Pot instead. He wore a jacket and tie, and she wore a cute dress from the back of her closet. They went ahead with the boutonniere and corsage, which made me happy because we ordered Van Halen guitar picks to be added into his boutonniere. (I told you, classic rock.)
I really nailed her makeup. We did a run-through at the Dior counter at Macy's a couple weeks ago and I watched very closely. BTW – eye makeup before concealer and foundation. Who knew? The curls fell out of her hair though, so we'll have to keep trying with that one or go professional for real prom next year. She asked to take photos in her friend's yard, which is large and lush, so we would have a nice backdrop. And then they went to dinner.
After the Melting Pot, he took her to the park and pulled a hand-made "Prom 2013″ banner out of his trunk. He played some of their favorite songs on his iPod and they danced in the park at twilight.
Yep. He's a good one…
Then they came back to my house to watch "Dr. Who". My daughter promptly fell asleep with her head on her date's shoulder — before 10pm.
That's how those crazy teens roll.
And now I am preparing for Ragnar Cape Cod. It's going to be a cold one, ladies and gents. About 54 degrees for the high, and camping out in 45 degreed. Compared to the 85 with high humidity I'm used to, I'll be packing gloves and wool socks. No joke.
What's the best event photo you've taken recently?