Last week was my first time participating in the One Step Closer to The Cure 5k http://www.ovariancancerfoundation.org/onestep.
I didn't race this 5k one bit. In fact, we were the last ones across the finish line!
My friend Shannon is a 2 time ovarian cancer survivor. This is not a friendly disease, and she is lucky to be as healthy as she is right now. She is strong, positive and simply a delight! Shannon put a team together for this 5k and asked me to be on it. At the last minutes, I volunteered to be the team photographer.
The 5k took us one and a half hours! We took photos, told stories, and enjoyed the gorgeous views of the St Pete waterfront course. I met some of her friends and neighbors too.
Shannon prepared aqua sashes for all of us to wear, to match the aqua ribbon for ovarian cancer awareness. I chose to wear one that said "Laughter" across it, because laughter makes darn good medicine! It was held closed with a Relay For Life pin, which was appropriate because my daughter captains a Relay For Life team each year. Fun coincidence!
Speaking of my daughter, she is a member of the Interact Club at her high school, and they volunteered at this race. She has had a special bond with Shannon since they met when she was 3 years old, and very excited to hug Shannon in the middle of the course. Some of the high schoolers gave directions and some handed out water. Considering the high temp and humidity and the number of cancer patients and new survivors at this race, there were not enough water stops along the course. Shannon mentioned it right away. I had water in my backpack to share.
I saw friends along the course. Some were in the race and some were just out for a morning run. Wendy also saw two of my girlfriends out for a walk who didn't know we would be downtown. She had time to talk to them about school and her classes between the 7:30 5k obstacle course runner start and the 8:30 5k race start. (There was also a 1 mile for kids).
Our team cross the finish line with our arms around each other and Shannon in the middle. We all supported each other!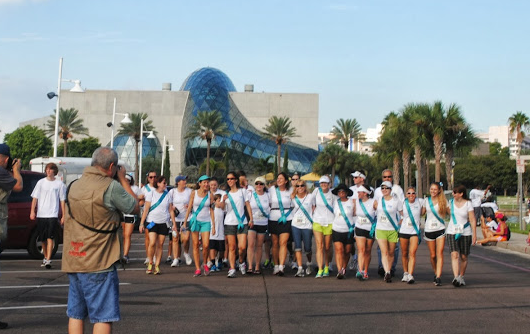 Then we went for brunch at Cassis, where Shannon went around the room and said how she knew each one of us. It was sweet!
I've never been last in a 5k before and I couldn't have cared less. I really didn't want our time together thinking about how lucky we all were to end.