Just weeks before I visited London in June, my cousin's wife was there with their daughter. I asked for suggestions about places to eat and things to do, and she recommended Dishoom. She called it "Indian food," and after all four of us loved our meal at Sanaa (twice), we figured it was worth a shot.
Dishoom describes themselves as paying "loving homage to the Irani cafés that were once part of the fabric of life in Bombay." There is more than one Dishoom location, and we chose the King's Cross location for dinner after a day in The British Museum. Luckily, my Google maps were choosing to load that day, so I could find the way from the train station to the restaurant. We almost didn't make it, because the front door is not visible from the street. You have to walk around the side of a large (office?) building.
We hadn't eaten much that day, and had done a lot of walking, so we were ready to share a family-style feast! We were seated upstairs – the stairs are behind the clock in this photo: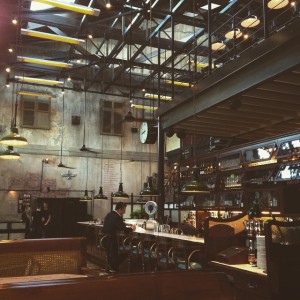 The four of us went through the menu, and since we were a little concerned with our pronunciations and the server understanding us, I started a notepad file on my phone and listed all the items we wanted to order. We got: lamb samosa, vegetable samosa, black daal, cheese naan, rice, calamari, chicken ruby, gunpowder potatoes, murgh malai, far far and 2 drinks for Brian. The samosas were yummy, the daal was amazing, the calamari my husband and kids liked so much they ordered a second portion (they were small, tapas-like sizes), and I loved the gunpowder potatoes but they were too spicy for Brian.
The teen daughters enjoyed it! YOLO they said, about ordering the Far Far…
Here's a peek at some of the architecture:
It was trendy, funky, comfortable and fun. Although we all kind of wanted dessert eventually, we were full as we were leaving. We asked one of the hostesses if she could recommend a good place to have dessert in a couple hours. She recommended Flesh and Buns. "It's near Matilda," she said. "Matilda the musical?" I asked. "We actually have tickets to see that show on Wednesday. We'll have to go to Flesh and Buns for dinner that night."
Then – get this – she gave us 4 coupons to come back to Dishoom for breakfast and get a free drink! So two days later we were back for naan stuffed with eggs, sausage and other goodies! The runny egg yolks were really dark, almost orange. Farm fresh! My mango banana lassi was delicious!
She told us about the Flesh and Buns menu and said to ask for her boyfriend, Casper, one of the bartenders. And we did… but that meal is a story for a different time!