Last night I attended the last of four showings of Fantastic Ekphrastic, which ran February 19 and 20, 2016, at 5:30pm and 8pm. All proceeds from the event benefitted Keep St. Pete Lit.
(That's Lit as in literature, not lit as in joints…)
When I got invited to attend the event, I did 2 things before RSVPing. First I looked up the definition of Ekphrastic: a literary description of or a commentary on a visual work of art… Then I looked up a description of the event so I knew what I was getting myself into. I had heard of it when it was up for a Best of the Bay art event award, and knew it had sold out last year and was BELOVED – But I did not know what it WAS.
Audiences walk into a space with 16 visual artists' pieces set up around the perimeter and chairs in the center.
Each art piece is interpreted by a local writer who has just seen the artwork for the first time and is compelled to write an accompanying piece – poem, play, short story, etc.
These writings are then presented in dramatic readings by captivating local performers.
Brian and I decided we hadn't had an artsy night out for a while, so put our names down for the final show – Saturday night at 8pm. We started with dinner at Red Mesa Cantina (duck taco, empanada and grilled chicken quesadilla shared), dessert at Swah-Rey, and then headed to Soft Water Studios for Fantastic Ekphrastic. I was already enjoying looking at art just walking to our car and down the street to these local hangouts!
Although guests certainly arrived after us, I probably would have liked to have been there about 15 minutes earlier to view the art up close a bit longer before the readings began. (Which basically means we should have split one of the massive pieces of cake at Swah-Rey instead of ordering one for each of us. Brian's tummy regretted that later. And to continue this aside, they do offer $1 tasters of the cake in mini-cupcake form and two of those are probably what I could have ordered for myself, but I had been avoiding artificial sugar for a while and wanted to treat myself to a real piece of cake.)
We peeked at the art, then we took our seats and the real fun began. Pre-written pieces about the art were read aloud by local performers. Everyone also had a ballot, and we were asked to vote on our favorite collaboration.
"I am in awe of the creative collaboration that makes St. Pete such a wonderful city," said my friend Maureen McDole in her open remarks. The event is her brainchild. In the past it has been referred to as "a literary moshpit of creativity."
One thing that was particularly interesting to me was that my favorite painting in the room did not get my vote because it was not my favorite collaboration. It was this painting of the moon:
It's "First Moon" by Carol Mickett and Robert Stackhouse. The writer of the corresponding piece was Matt Jackson. A bit from his piece that I jotted down was, "I tell it of its greatness, but it has no such thoughts of itself."
The striking image above, and on all of this year's marketing for the event, is Saori Murphy's "Identifiability," one of the pieces featured in the show. Glòria Muñoz wrote about this piece, and a quote I scribbled down was, "We're all on the verge of inventing something, aren't we?"
Artist Carrie Jadus wrote about her piece above, Doppelganger, (which she also photographed), "This painting is about my own worst enemy. One whom I have (hopefully) engaged in a friendly battle with this time. A beautiful ekphrastic piece was written about this by St Petersburg's Literary Muse, Maureen McDole." The quote I scribbled down from her piece was, "Nothing but light."
Brian voted for Bikini Atoll Bombshell: Lance Rodgers, artist / Becca McCoy, actor (pictured) / Sheila Cowley, playwright. My little quip from this was, "I made $250 last week." She was referencing the military men being so bored they were betting on lizards catching moths. It was the People's Choice winner of best creative collaboration for the event.
This piece got my ballot. The painting is "Daddy Wouldn't Let Me Dance" by Judy Dazzio. The piece read was written by David Warner and performed by 4 people: Eugenie Bondurant, Paul Wilborn, Kylin Brady and Peyton Jones. Kylin Brady performed a few of the pieces throughout the evening, and I just adored her. She had a great presence and incorporated so many senses into her acting, actually moving me to tears. Poking through her Facebook later I see she's actually a dancer and has tons of funky style. WCW for days…
Another piece she read was written by Sheree Greer and accompanied the painting "Beautiful" by Carolina Cleere (below.)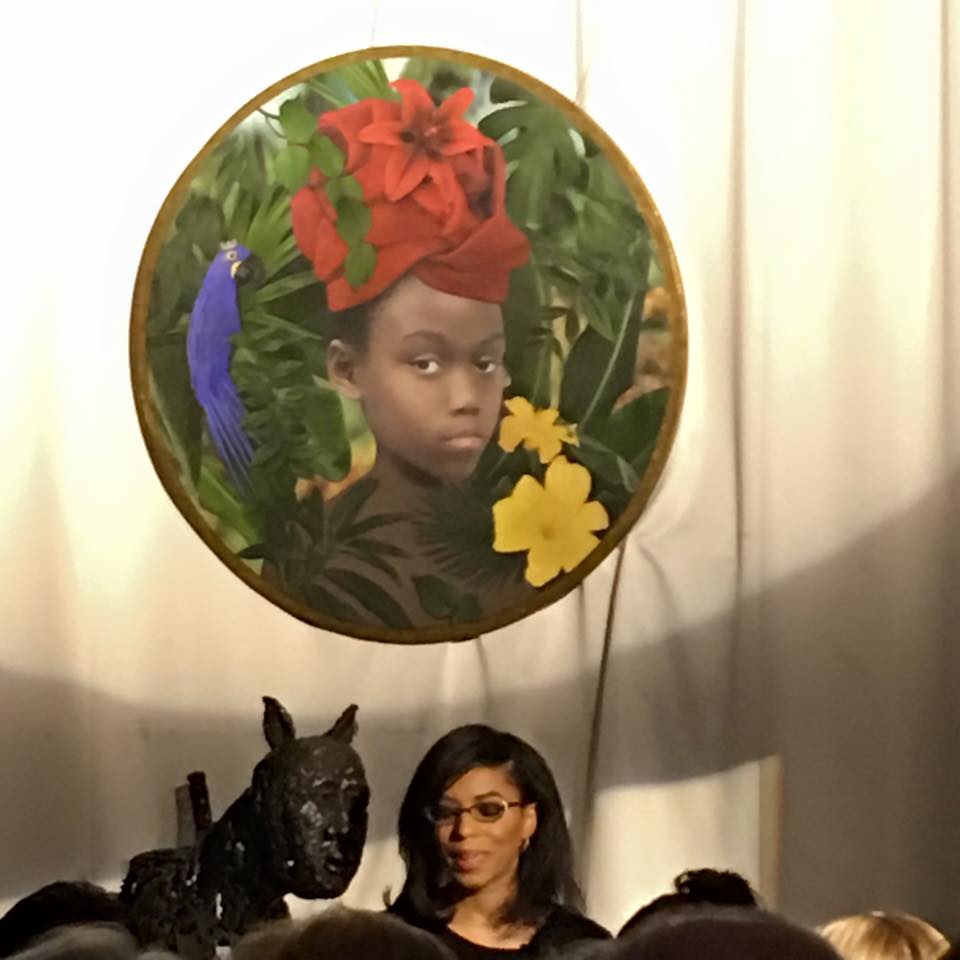 That piece played off the premise of "The Best Advice We'd Give Our Younger Selves — In 3 Words." The girl in the painting would go to yard sales and find 'treasures'. Among them were a silver mirror with pearl-like handle and a blue-eyed, yellow haired, one-armed doll that smelled like strawberries. What would she tell her younger self? Fuck that doll… no, use the mirror. No. You are beautiful.
This piece is "Sall & Son" by Cora Marshall. John Pendygraft wrote about it, and nailed the description of the mothers expression, calling her "tired, steadfast, worried, resolute, uncertain and determined." I see all of that!
This is "Unfamiliar Landscape" by Sharon Norwood. R. MonaLeza, famous locally for her open mic poetry, wrote of an African-American little girl starting a new, mostly-white school and getting bullied. The note I wrote down does not hold the emotion of the piece, but I liked the alliteration of it. She described the boys on the slide during recess as "shimmying down the shiny metal chute." Say it out loud. Doesn't that sound pretty?
And the quote that I think wrapped up the whole night the best accompanied the piece of art I admired the least. "Miracle Down the Way," a diptych by Carol Dameron, had a piece written about it by Barbara Riddle. I wrote down the emphatic,
"We live in the lives of others who have seen our work."
Which is kind of the whole point of having actors read from writers written from visual art. B-I-N-G-O!
The artwork and writing from Fantastic Ekphrastic will be on display at Soft Water Studios until Sunday, March 13th, so you can drop by and check it out!
The event was Directed by Bob Devin Jones with Music and Sound by Matt Cowley. Sponsors included: Beth Morean, Soft Water Studios, Russell Property Group, Sylvia Rusche Insurance Agency, Inc, Creative Loafing Tampa, photoxo, Fisher & Sauls PA, Keep Saint Petersburg Local, The Studio@620, Kathleen McDole, The Hubbard Family, Doyle Wealth Management, The Amsterdam, and Many Happy Return$, Inc.
Keep St. Pete Lit has programs throughout St. Pete including free LitSpace writing classes at Morean Art Center for adults, the curated used book store called Bookspace inside Bloom Art Center and the LitSpace Writer's Residency at Craftsman House Gallery. They also deliver books to children through the Bluebird Book Bus and host an adult book club at the MFA.
*Disclaimer: I didn't take any of these photos. I stole them from Facebook. I have no intentions of discrediting someone's work, rather I hoped to give my readers a sense of the evening the best way possible. Also, my tickets to the event were free because of friends involved with the show, but all opinions are my own and I was not asked to write this post.