Soon my husband and I will be enjoying a trip for two to Spain. It's not easy planning a trip to a foreign country you've never been to! Here's how we plan a trip abroad.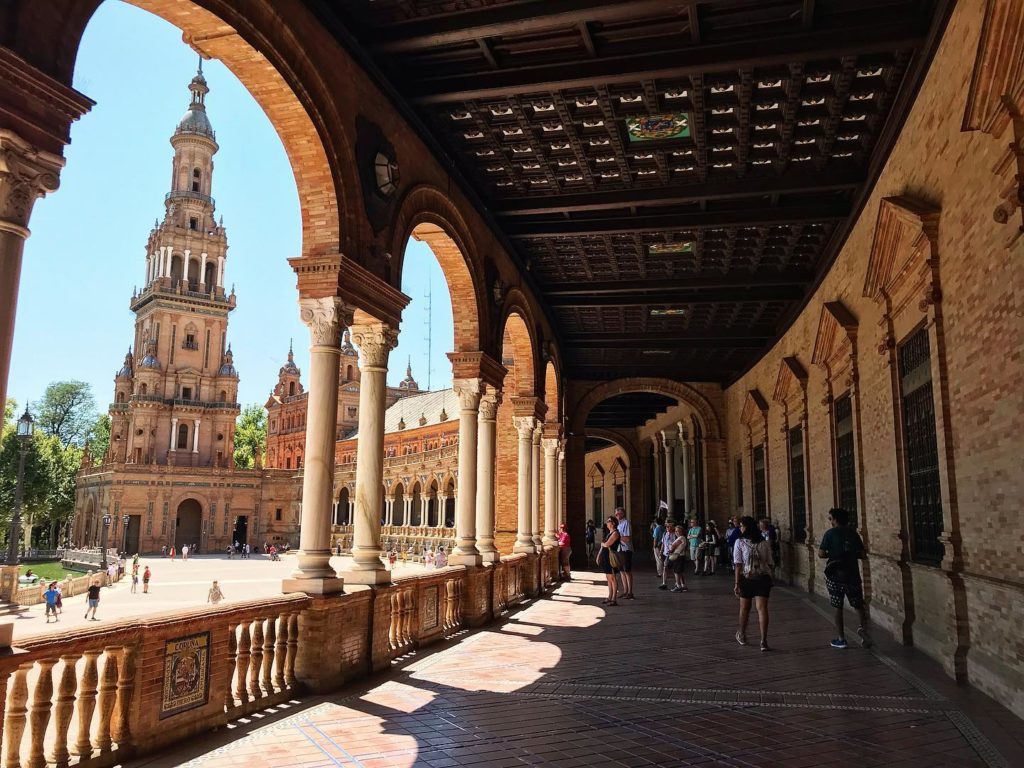 Decide WHEN you want to go. This was easy for us. I work at a school so it is easiest for me to vacation during winter break, summer break or spring break. In this case we wanted to go for two weeks, so we chose summer break.
Narrow down the cities you want to go to. Spain is a big place. We can't cover it all in two weeks. We got advice from two friends who had been there very recently, plus one friend who was born there and a cousin who currently lives there. Narrowing down the cities is something Brian usually focuses on more than me, and then runs his final decision by me. The two friends we tapped into were kind enough to share their full itineraries, so that gave us ideas of specific places to tour and places to eat.
Start a Google Doc and a Google Sheet. We share documents online – one with advice from people by city (Google Doc), and a spreadsheet of things we actually have booked – the dates, flights, hotel confirmation #s, etc.
Book your flights. Before you can make reservations for anything along the route, you need to know exactly when you will be there. We used miles we had gathered through credit card use to book our flights less expensively. (We did this roughly 6 months in advance when we saw a special online.)
Find and check the expiration date on your passport.
Reserve lodging. We usually stay in some hotels and some home-stay-rentals (Air B&B, HomeAway) when traveling. When we went to Italy we rented from people through HomeAway in 3 cities and then stayed in a hotel the last 3 days in Venice to feel pampered on our way out. For Spain we're staying in 3 hotels and one Air B&B. For us, it depends on location and cost – and the need to do laundry. In the middle of this trip we'll be in Toledo, Spain, so that is when we'll be in an Air B&B. That way we can do laundry mid-trip and have enough clothes for 2 weeks. Plus, we're packing in backpacks so we don't have to wheel luggage around on bumpy, stone streets, so everything we bring has to fit in our backpacks + a carry-on tote. Brian usually starts a lodging list on Air B&B or HomeAway or Expedia and we take time to sit down together and look at options. One of the hotels we are staying in during this trip is BRAND new. We kept watching the Facebook page for a grand opening post. Luckily – it is open! That new rooftop pool should be gorgeous!
Get visuals – learn more. This is the part of the process when my husband starts to watch Amazon Prime and Netflix videos of where we are headed. I don't do that till later. It's not real enough to me yet, and the shows go over my head when it's too far in advance. But I kind of listen in the background and get an idea of where people speak English and what the local food is. Rick Steves' videos are high on Brian's list.
Brian started brushing up on his Spanish using the Duolingo app and an audio class in the car on the way to work. He took Spanish in high school, and it's helpful to be able to say and understand basic phrases when in another country. I never took Spanish, but know some basic phrases and foods from quizzing my kids when they were little, and I can ask where the restrooms are!
Plan activities. Brian and I actually scheduled meeting times so we can sit down together and look at tours, cooking classes, etc. We got a feel for do-not-miss items we really want to get a ticket for in advance, and things that we will decide on the fly when we have a day with no plans. We don't like to plan every minute of every day. We also don't like to go to a museum every day. We need chillax time, hotel pool time, etc… Side note: We have taken a cooking class in multiple countries and love that opportunity! Spain will be no exception. I looked for one that was not simply a paella class. Our friend who was born in Barcelona suggested the best part of the country to watch flamenco. We also want to tour a winery.
Research restaurants – and bars, etc. This is something I usually do without Brian. I like food way more than he does! I take recommendations from friends and bloggers and Instagram, and view their menus online. I plot locations out by city on a custom Google map. Then when we are walking around in the middle of the day and get hungry we can open my map and see what I already researched that is nearby. In Italy this led us to two of our favorite restaurants! We also got good advice from our landlord in Florence for more locations that we tried. Once I have a list of restaurants that I think will have food we like, I share the list with Brian. Of course there are times we wander or ask a local, but it's nice to have some places that have already been reviewed in your back pocket. While researching restaurants for Spain, I noted what some of the common, local dishes are called in Spanish. We can get by with basic, Spanish sentences, but I don't know words like "cod" or "stew" or most importantly "cucumbers" – which I am allergic to and have to avoid.
Make a packing list. I start this 3 weeks before a trip. I have a basic packing list I keep on my phone so I remember little things like my travel clothesline and eyedrops. I started checking the weather in Madrid and Barcelona, and learned that the daytime may be as hot as Florida, but it gets much cooler at night. I'll probably need a jacket aside from the one I am bringing on the plane, so I have one that is a bit dressier for evening. I also put my carry-on tote on the floor of my closet so I could start tossing things in that I was afraid I'd forget to pack. Last week I selected the clothes I want to bring to Spain, and sectioned them off in my closet. I put them all in my backpack to be sure they will all fit. Shorts, skirts, dresses, tops, one pair of jeans, shoes, a swimsuit… I tossed it all in my backpack to be sure I could comfortably walk around with all of it on my back. And to be sure it all fit! I debated about buying packing cubes, but didn't. I may still split my clothes in half and pack half in an extra large Ziploc bag to make it easy to unpack and repack as we switch cities. I also like to bring one outfit in my carry-on in case my luggage gets lots in transit. We've also packed a Brian outfit in Raffi's bag, and a Raffi outfit in Brian's bag, in case one of us arrives with luggage and the other doesn't. I can share my final packing list in a future post. In the meantime, it's on a tab of our shared Google Sheet so Brian can add to it as well.
Talk to your bank. Some banks have a preferred bank overseas for you to use for ATM transactions. This will help you save in fees. It's also important to alert your bank / credit cards that you will be traveling so they don't freeze your account thinking someone else is using your card somewhere else.
Talk to your cell provider. Find out about possible roaming charges for talking, texting, data, etc. A few years ago I very specifically asked, "What if someone texts me a photo? What if I text someone else a photo?" T–Mobile ONE, Simple Choice, New Classic and Select Choice plans provide unlimited 2G data, unlimited texting, and calling at $0.25 per minute in 210+ countries and destinations. My parents like to use Whatsapp when traveling. WhatsApp Messenger is a freeware, cross-platform messaging and Voice over IP service owned by Facebook. You can use it to send text and voice messages, make voice and video calls, share images, documents, user location and other media. 
Download some good books. Time spent on airplanes and trains is often better with a book. Even if you like to bring a real book, you might still want 2-3 backup novels on your phone/e-reader. I like to bring one paperback that I leave behind wherever I finish reading it. It's a little travel habit of mine.
I have completed everything above. I have looked at photos online, know the local dishes, understand they eat dinner at the time I typically crawl in bed, and a section of my closet has the clothes I don't want to wear so I don't have to wash them again. Some people use this time to get a haircut, manicure, wax, etc. I'll just read about and get excited for SPAIN!