When our family ventured to London, we researched fun things to do with teens beforehand. Traveling with older teenagers is not like traveling with tiny children – but they aren't quite like traveling with a set of contemporaries either.
One of the fun adventures my husband stumbled across online was Go Ape, a tree-top adventure that lets you "get in touch with your inner Tarzan."
Their course includes a high ropes course adventure with a zip line at the end of each challenge. Our family had done a ropes course at Dollywood, but certainly not in treetops near a castle! And it did not include ziplining. (After only three years, Dollywood removed the two-acre Adventure Mountain multi-level rope course, so don't go looking for it now…)
While at Dollywood, I found myself gripping the ropes tighter than I thought I would, getting a little stressed about falling despite the harness and safety wire. It was still an enjoyable trip, though, so when Brian recommended taking a train to Kent for the day and trying the Go Ape course, followed by a castle tour and hedge maze large enough to actually get a little lost in, we were all really excited about it.
We prepped by reading their website. The text and photos promised breathtaking views of the beautiful area surrounding Leeds Castle (near Maidstone), and "obstacles that will get the hairs on the back of neck bristling". It also said the high ropes courses were approximately 40 feet above the forest floor and zip wires were over 800 feet in length – and my favorite part "leap off our Tarzan Swing and tackle our crossings whilst enjoying some of Britain's most breathtaking scenery".
Also thanks to the website, we knew how to get there, how early to arrive before our scheduled flight time, and what to wear – something you don't mind getting grubby that covers your stomach and an emergency rain jacket. Appropriate close-toed footwear with soles with good grips – no sandals or slip-off shoes. Long hair should be tied back. And they recommended gloves, so I grabbed a pair of those $1 stretchy Target gloves for each of us. (I was the only one who wore them. I thought they were to avoid rope burn, but they were really to prepare for bad weather – and we had GORGEOUS weather!)
You can bring scaredy-cat friends who don't want to participate to enjoy the forest grounds and take photos for you. You can also bring little ones: the Tree Top Junior Adventure includes up to an hour of exploring the tree tops for 6 – 12 year olds to enjoy.
We arrived right on time, locked up our belongings, signed insurance waivers, and got fit into our safety harnesses.
An adventure begins with a safety briefing. There was a group of teens there celebrating a friend's birthday, and we had our safety talk together. That was nice, because you could see the information repeated a few times so it would sink in despite your excitement.
Then there are a couple of easy obstacles to try near the start, so the safety person can make sure you are doing them correctly, and so someone can back out if they are too uncomfortable.
Then you are led by signs through the forest from obstacle to obstacle, climbing at the start of each one, and meeting the ground after each one with a fun zipline down!
My little one wanted me to take photos and videos of her throughout the course, but my hands were shaky from the height and from gripping so hard, and I was worried I would drop an iPhone! That didn't stop her from making her own videos and taking selfies up high in the treetops without fear.
At one point my nervousness got the best of me. I ziplined down to the ground and took photos for a few minutes, and then finished up the course with the rest of the family. I just needed to feel solid ground for a few minutes, and my daughters applauded me when I stuck with it and climbed back up! #gotMyBack
Here are some more visuals of our tree-top Go Ape adventure: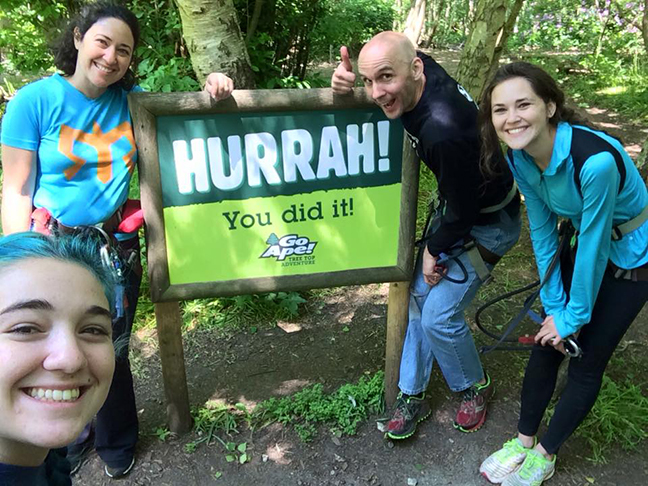 At the end we all received certificates of completion, as a memento to the fun you just survived. Just a short walk from the course is Leeds Castle, known as the Queen's Castle and "the loveliest castle in the world", where we planned to have a picnic lunch.
With peacocks roaming and sheep wandering, you'll feel like you've gotten away from it all! I loved much of the art inside the castle as well.
Outside the castle an animal show geared towards young children was going on. We went into the hedge maze while many of the other guests are occupied. It's NOT an easy maze.
The maze ends in the center, where you take steps down to an underground grotto!
On our way back to the meet the shuttle to our train, we spotted pre-wedding photos happening on the castle grounds. The castle was closing as the wedding caterer arrived.
This was certainly one of the best days of our London vacation in the summer of 2015! We had active time and passive time, we worked individually and as a team, we got exercise and enjoyed the amazing beauty around us. If you take a family trip nearby, I recommend a day trip to Kent, Leeds Castle and the GoApe treetop zipline adventure for sure!