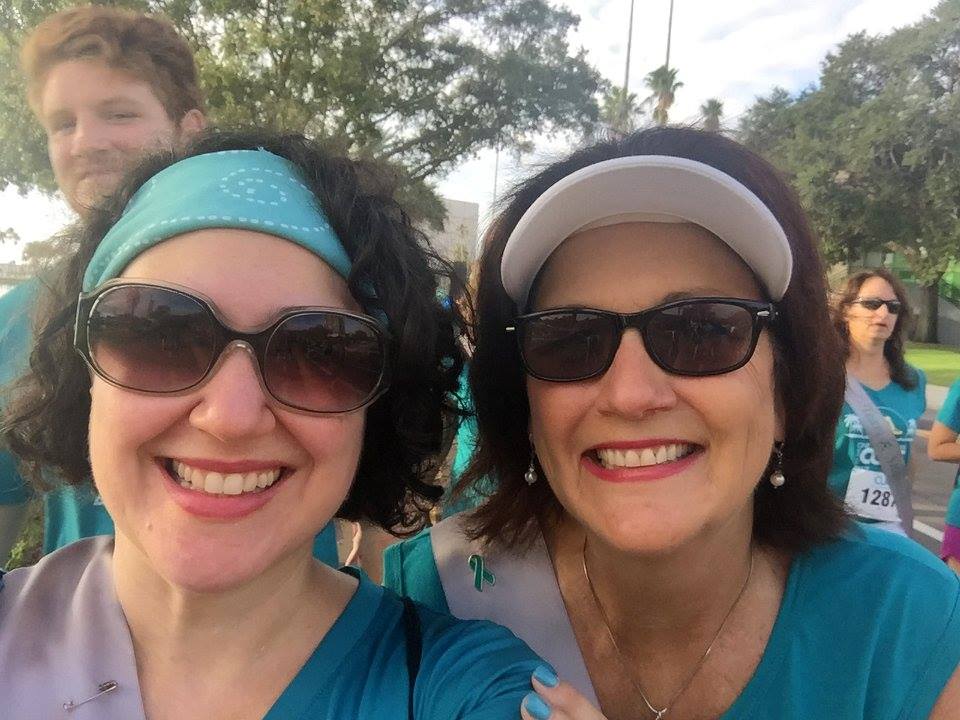 I recently lost my friend Shannon. We met 17 years ago when our children were placed in the same 3 year old classroom. We didn't seem to have much in common. Shannon towered over me in height, and there was a big age gap between us too. She lived in a large, beautiful home with her husband and young son. My house was about 1/4th the size of hers, and I had (at least we thought at the time) 2 daughters. But we both loved motherhood, Disney, girl talk – and found more similarities the more we got to know each other. At the end of that school year, our children shared a 4-year-old birthday party at Toy Story 2 on ice. They were tight friends for many years after that.
Shannon first told me she had cancer in a round-about way. We were both picking up our kids from school at the same time, later than most, from the aftercare room. They were in sixth grade. We hadn't gotten together for a few months – I thought because our kids were starting to hang out with other people. Turns out it was for more terrible reasons. That evening the kids were at their lockers getting ready to leave, and Shannon whispered that she thought she shocked my child because she was wearing a wig. I didn't even realize her new, bobbed haircut was a wig. I had no idea she was ill. Shannon assumed her cancer was part of the parent gossip and everyone knew, but our family had no idea.
We reconnected that day – tossing our tweenagers' drama aside and getting together without them, often to walk along the water early in the morning after dropping the kids off at school. We talked about anything and everything, both of us being very chatty people! And when the kids started high school, they ended up tight again.
Shannon had ovarian cancer, and fought ovarian cancer for ten years. And by "fight" I don't mean she went to chemo treatments. Shannon was determined for her illness to be part of the cure for ovarian cancer. She saw top notch doctors around the country, had multiple surgeries, became part of numerous studies – and repeated over and over that someday she would be part of the cure.
A large group gathered every year in her honor at the local ovarian cancer 5k. It would take us about 90 minutes to walk the measly three miles because Shannon would stop and talk to everyone along the course – people she recognized, people she was neighbors with, volunteer teens handing out water – everyone. And I would come as the team photographer / videographer to try to document some of her spirit and the support of her family, friends and teammates.
Hopefully, when you know someone for 17 years and see them at some of their worst (heaving) moments and perhaps at some of their best moments (child's high school graduation), you learn from them.
I learned that Shannon loved her son. This isn't so extraordinary. Mothers tend to love their children. But Shannon also respected her son in a way I rarely heard mothers talk about. She respected his decision making, his opinion, his privacy, his space, his relationships… She was very thoughtful in what she would and would not say to him, when she would and would not butt in, when she trusted him to handle something 100% independently or when she reminded him to bring his sunscreen.
Shannon enjoyed learning from everyone. Although she had a learning difference in the classroom, she shifted her approach to learning from everyone around her. She asked tons of questions – and the good questions at that. She would ask me details about what it meant to eat kosher, and might ask me again 4 years later to be sure she still understood. She questioned my son about how it felt to be transgender and what he loved about himself and what he wanted to change about himself. She learned from doctor after doctor, and some health practitioners who were more holistic as well.
And she learned from nature. A dolphin, manatee or hummingbird sighting truly excited her. She could grow a plant from a pit, and knew when to take cactus outside or bring them inside. She took it as sign when the lakehouse her family wanted to spend time at was on a street named for a bird. I think winged creatures were her favorites – birds and butterflies – aside from her own beloved puppies at home.
Shannon had old, southern values — sometimes. She would whisper words like "fart" or "vomit" and would say "stomach issues" instead of diarrhea. (Don't you wish everyone did??!) She believed in respecting all people unless someone really, really pissed her off by being outride rude to someone else for no good reason.
She liked a great manicure. She liked a comfortable wig. She liked a supportive bra. She liked when her sisters got together. She liked giving gifts – and she gave me one of the most generous gifts of all simply by being my girlfriend for so long.