Brian wanted to go to Austria this year. That was his original game plan. But while visiting my aunt and uncle in San Fransisco in March of 2016, they suggested we go to Italy. My cousin was helping her boyfriend's family run a B&B there. The prospect of being in a country where we had never been and didn't speak the language with someone we trusted who was already entrenched in the culture was a bonus. Plus – pasta. So we changed plans.
We narrowed down which cities we wanted to visit. Brian did some research on that on his own, as well as airport locations. Once we had our tentative list of cities, we worked on travel dates. Then, one night when we were looking at flights, we saw a great price we couldn't pass up – and we went for it! Our plane tickets, flying into Rome and out from Venice, were booked!
I then emailed a list of friends who I knew had been to Italy in the past couple of years. I asked them about their favorite sites and restaurants and started a Google Doc shared with my husband with a long list and web links.
Next, we researched apartments through sites like HomeAway and Booking.com. Brian sifted through tons on his lunch breaks and showed me a narrowed list to make a final decision. We decided on 5 days in Rome, 2-3 days in waterfront Cinque Terre, 6 days in Florence and 2 days in Venice. Since we only had 2 days in Venice and I figured we'd be exhausted by the end of two weeks of touring, I suggested we splurge and pamper ourselves at a nice hotel for those last 2 nights. Brian checked into places that would allow us to earn Marriott points. In the other locations we looked for details like air conditioning, non-smoking rooms, laundry and elevators. Soon all of our lodging was booked and our excitement for the trip was building!
We also started walking together three mornings each week for 3 miles to prep for all of the touring we would be doing. As Florida spring heat and humidity kicked in and our morning walk left us soaked with sweat, we hoped Italy would yield milder temperatures. (Spoiler – it didn't.)
Did you know you can make a custom Google map? I made one for each city we planned to stay in, and started plotting sites and restaurants recommended by our friends, bloggers, Instagrammers, and "Wine Spectator" magazine. That way if we were out and needed to know what we were near, I could just check on my phone.
We also prepped with some help from travel guru Rick Steves. We had a book of his about Italy and one specifically about Venice. We watched videos of him eating pasta with dough on top in Cinque Terre. We read packing tips and Brian purchased a small, theft-proof backpack. (Small so it could still enter holy sites and theft-proof meaning the straps had metal running through them so they couldn't be cut through, and the zippers had a locking mechanism.) I bought myself a dress that covered my knees and shoulders (for visiting holy sites) that was made from sweat-wicking tech fabric. We bought a power adapter for the Italian outlets. I upgraded my sneakers and bought a comfortable wedged heel for evening strolls on brick streets. Before we knew it, June rolled around and we were ready to go!
Rome
Brian and I left Florida on June 8 for Rome. I had photos of our credit cards, passports and luggage on my phone and saved to Google Drive in case I lost them or my phone. After 2 flights, we arrived in the busy Rome airport hoping to find a driver holding a little sign with our last name on it – arranged through the landlord of the first apartment we had rented. We didn't see him, but we had landed early, so we found a patch of floor off to the side and waited. After 20 minutes, I suggested that perhaps the sign that said "Darlou" was a misspelling of our name, and Brian approached the driver. Neither spoke the other's language, but with a flash of an email confirming the apartment and some I.D., we were on our way in a nondescript black car with a man we didn't know to an apartment we had never seen. It was sketchy and exciting, and the drive was much longer than I had anticipated.
We buzzed up to the apartment, and the owner was there waiting for us. He pointed out a local pizza shop, the nearest grocery store and the entrance to the metro. He showed us how to work the key, elevator and washing machine. Then we snuck out on the bedroom balcony and saw the Vatican and St. Peter's Basilica in the distance. The dome was so recognizable from our prep for the trip, and suddenly everything was real. 2 weeks of no email. 2 weeks of just the 2 of us. 2 weeks in Italy!!
We unpacked, and had a little time before our scheduled twilight tour of Rome. We decided to check out the nearby pizza place, Bonci, and I'm so glad we did. This little shop with tables to stand by and eat at outside was busy and smelled great. The people running the counter service somehow managed to keep track of all the orders in multiple languages. The pizza itself was like focaccia with a variety of available toppings. I got zucchini and olive oil, and it was incredible!
Our stroll to the tour's meeting point took us right past Vatican City and a castle. There was a lot of street art along the way too, including violinists playing "Despacito" for change.
We met our tour guide in Piazza Navona and were treated to some live music.
See the building behind the musicians? Nothing in Florida looks like that, because nothing is that old. EVERYTHING in Rome looks like that. It is an architectural photographer's dream!
On the tour we saw the Pantheon (below), Raphael's tomb, the Trevi Fountain (more on the fountain in another post), the Spanish Steps, many ancient Egyptian obelisks and got gelato. I had a flavor based on the British Nestlé Lion bar and dark chocolate. (I quickly learned that plain, dark chocolate in Italian is fondente.) Brian had some kind of whiskey flavor.
After our tour, we went to dinner and walked back to our apartment. Walking past St. Peter's Basilica all lit up at night was beautiful!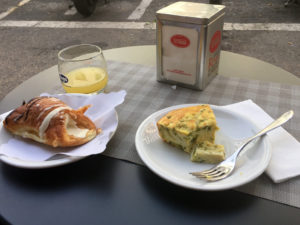 The next morning we went to a nearby cafe for breakfast. My quiche-like thing stacked high with eggs and zucchini was called an omelette. Brian had a pastry. I bought a non-traditional cannoli that was all nuts on the outside and creamy stuff in the center (not shown, but amazing!) We did a little grocery shopping so we would have future breakfasts and some wine in the apartment.
We had an afternoon tour scheduled to go under the Vatican. "The Scavi Tour that goes through the excavations below Saint Peter's Basilica is one of the most exclusive tours in all of Rome. Only 250 people are allowed through each day – compare that to the 30,000 that visit the Vatican Museums!" We decided to get lunch first. I googled restaurants near the Vatican and found 2 we were interested in. One seemed more casual and the other more romantic, so we hit the casual one – La Zanzara.
La Zanzara translates into 'the mosquito' in English. They had a lot of white tile and mirrors, giving the place a trendy feel. I asked Brian if he would try something he had never eaten before as an appetizer, and suggested the zucchini blossoms stuffed with anchovies and mozzarella cheese, tempura fried. They were described on the menu as "Pumpkin flower in Moskowskaya batter with cow's milk mozzarella cheese and anchovies from Cantabrian Sea." Brian doesn't usually eat vegetables, and neither of us have ever been into anchovies, but I figured it was fried with cheese and a cheap appetizer. We tried them and loved them! Brian also ate a croque madame sandwich and I had a salad with seared ahi tuna. This is a great restaurant for a couple or a family. I saw young kids coloring at a table, a group of bros at a table, and lots of ladies getting drinks in pairs here.
TIP: you'll find many small fountains all around Rome with water running out of them along the street (video clip below). These are not broken fire hydrants. They are potable water you can drink! Bring a sports bottle and fill it up along your route!
When we arrived at the Vatican, we were given a time to check in for our tour that was 35 minutes later, so we used that time to visit their temporary menorah exhibit. It was about the history of the menorah through art, and much of it was in Hebrew so I took a ton of photos for my parents. Imagine going all the way to Vatican City to see Jewish relics and art!
Then we went underground for the Scavi tour. No photos were allowed. Our tour guide gave a lot of historical details about The Vatican's architecture and obtaining St Peter's body. It was certainly a once in a lifetime experience. We exited in the Catacombs and were able to pass the line to enter Saint Peter's Basilica. This cathedral is MASSIVE and covered in art pieces from floor to ceiling. Literally. There is not a spot without art anywhere in the entire, huge structure.
Maybe we were a little nutty, but we booked a night tour of the Colosseum for the same day. We went to the apartment for a snack and to foam roll our legs from all of the walking, and headed out to the next tour. We decided this was our chance to learn how to ride the Metro. Brian planned our route and knew where to get off the train — but boy were we in for a BIG surprise. We exited the train station and it was MOBBED. People everywhere. I couldn't even find the exit turnstile because of the crowd and an armed guard pointed it out to me. It occurred to me that many of the people crowding us were young, pierced, tattooed and had half-shaved heads. Many also had rainbows on their Tshirts. And it was June. I looked at Brian and said, "I think we're walking into the Pride parade."
Sure enough, Roma Pride, which averages 1 million visitors was currently passing the Colosseum and the train station. Thank goodness the parade and floats were moving in the same direction we were so we were not swimming upstream! It was so cool seeing throngs of funky modernity next to 1500 year old relics!
When we made it to where the tour group was meeting, the guide was late for the same reason. We had to take an alternate tour route from our meeting point to the Colosseum since the streets were flooded with people, and along the way we saw and discussed the ruins of the Forum from up on Capitoline Hill and Circus Maximus.
We booked the Colosseum at night tour, because we heard it's hard to see anything in the Colosseum during the day due to the dense crowds. This tour went on at the same time as maybe one or two others, but otherwise the Colosseum was closed to visitors. We went underneath the fighting site to where animals and some of the gladiators were held in cells. There was a replica of a wooden elevator on a pulley system that was used to lift animals into the arena space. We saw the main arena area just before sundown, and again after the underground tour when it was dark outside but areas were lit with spotlights. The Colosseum could seat over 50,000 spectators! It's a large space that is now home to many cats that are cared for by locals. Legend says they are all 'fixed' and 'chipped' as well, and own by the city. [See one on my Instagram]
After the Colosseum tour it was about 10pm and we hadn't eaten dinner. We found a nearby wine bar that also had a dinner menu. There we enjoyed lasagna layered with zucchini blossoms (notice a trend?), bread, wine, and two desserts.
Sunday we purposely had no plans other than our landlord wanted to take us to dinner. We wanted to just enjoy the city and each other's company. I had noted the romantic restaurant I had read about online earlier and we decided to find it. Trattoria della Barchetta, and the reviews I read about it online, were NO JOKE! I'll write about that delicious place very soon.
On our tours, all of the guides had mentioned the Audrey Hepburn movie "Roman Holiday" about a princess enjoying a day in Rome. (Only they call it "Vacanze Romane.") Brian and I had never seen it, so when we snuck into bed at 2pm, found it streaming and watched it. The whole movie was filmed in Italy. Every scenic area they showed in the movie we had already been to! Even the fountain that Gregory Peck sticks his hand in! That was pretty cool. I recommend building some down time into every vacation or you'll come home sick and exhausted.
Our landlord lived in a trendy part of Rome full of great food, and we were excited to see where he was taking us for dinner. We stopped at three landmarks along the way, but in the end he took us to Eataly. Eataly has a large shopping market and a few restaurants under one roof. It's kind of like the IKEA of pasta. It didn't seem as homemade or intimate as we were hoping for, and he didn't give me time to shop for gifts after we ate. That might have been the most appropriate use of my time there. Oh well. You can't win them all. At least the gelato was fresh, artisanal and delicious!
The next day we toured Pompeii and had lunch in Sorrento before enjoying our last night out in Rome. That will be saved for another post!